Freezer Friendly Pinto Bean Cheese Burrito
5 min read
This vegetarian make-ahead burrito is just like the ones you get in the freezer aisle but better! It's packed with pinto beans, pepper jack cheese and spinach for a little extra nutrition!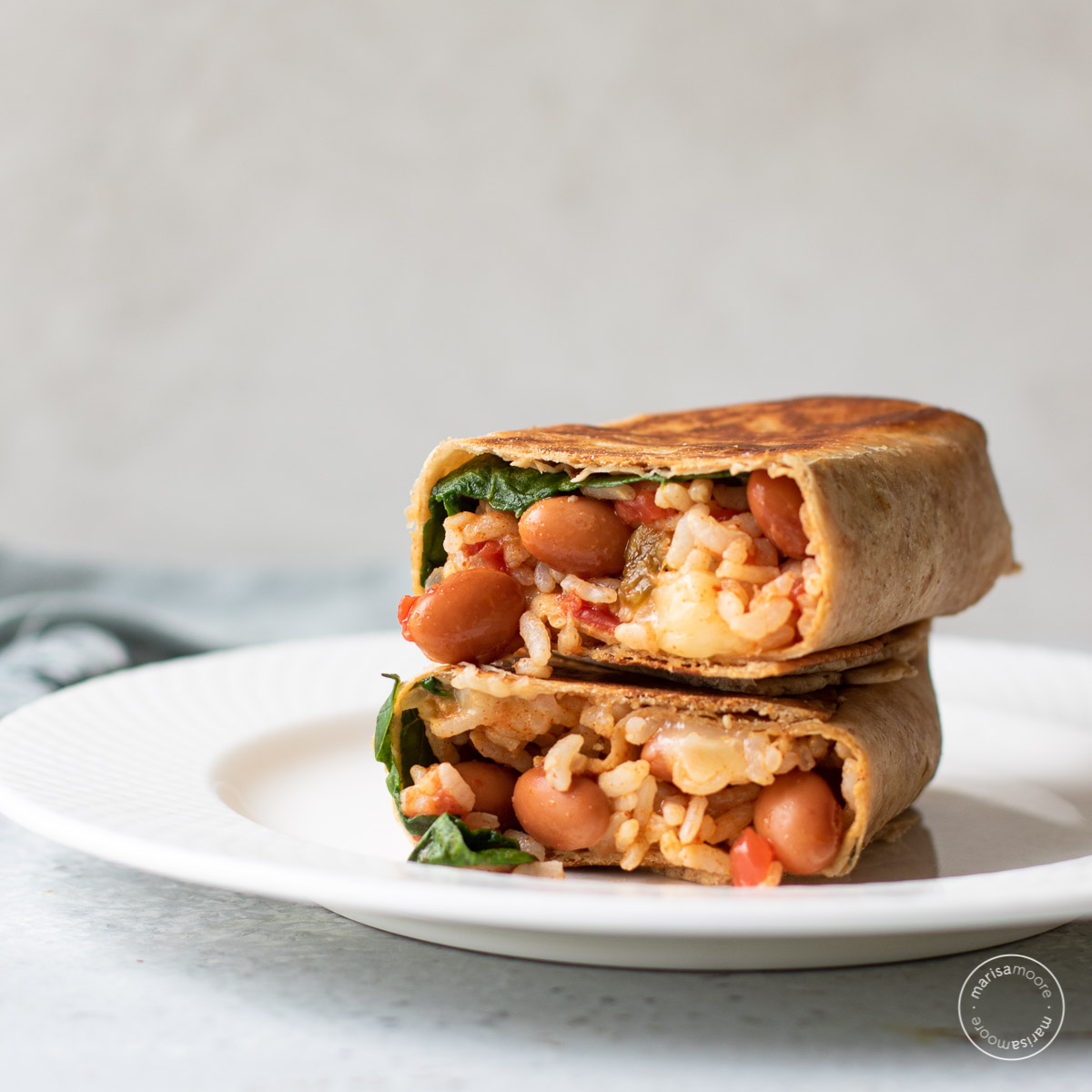 This post is sponsored by my friends at Cabot Creamery.
Packed with pinto beans, spinach and a spicy, seasoned rice and griddled to perfection, these bean, cheese and greens burritos are perfect for a quick week day lunch or dinner. It's protein and fiber-packed and freezer-friendly too!
You will need
Cooking oil (avocado, olive, other neutral-flavor oil)
Cooked Pinto Beans (I used canned)
Canned tomatoes with green chiles
Red onion
Cabot Pepper Jack Cheese
Chili powder
Cooked Rice (I used brown)
Spinach
Avocado, salsa, sour cream, cilantro for garnish
(Scroll down for the step-by-step recipe).
Tips for preparing bean cheese burritos
Pick the right tortilla. Go with a 10- or 12-inch tortilla for the best results. There are a ton of tortillas or wraps on the market from flour tortillas to those made with gluten-free ingredients such as cassava, quinoa or almond flour. Use whatever works for you but just make sure it's thick enough to endure a bit of rolling and wrapping. Some gluten-free tortillas tear easily.
Season the pinto beans and each ingredient throughout preparation. If you're using canned pinto beans, they may or may not have much salt and can lack flavor overall. Be sure to season them with the chili powder and salt so the flavor carries through each bite.
Taste the seasoned rice before layering on the tortilla. The pinto beans and brand of canned tomatoes you use can affect the flavor significantly. Because the sodium level varies, this is a good time to add more salt if needed.
Griddle the burrito seam side down. This is critical to keeping the burrito together. If you accidentally grill the wrong side first, the burrito will likely unravel.
Quality cheese is essential
The cheese serves to seal these burritos and to add incredible flavor. I am using Cabot Pepper Jack Cheese for its creaminess and hint of peppery heat.
I cut the pepper jack into small cubes to enjoy soft, gooey bits of cheese throughout the burrito.
Feel free to shred the cheese if you prefer.
If you're not familiar, Cabot is a co-operative owned by farm families throughout New England & New York and 100% of profits go back to the farmers. It's always stocked in my fridge and I especially love all of the different flavors.
Make now. Eat later.
These burritos are perfect for meal prep at the beginning of the week. They can be kept in the fridge – stored seam side down.
Or you can wrap and freeze them for up to 3 months. Reheat in the toaster oven or the microwave for a quick weekday lunch or dinner.
Once you have the frozen burritos in place, you're set. They are perfect for a meal on a budget when compared to what you pay for the ones you get from most supermarkets.
Serving ideas
These burritos are the perfect handheld meal. With rice, plant protein from the beans, spinach and tomatoes and the cheese to bring it all together what more do you need?
If I were taking them for lunch, these burritos would be tasty paired with pineapple or mango chunks.
I usually eat these just as is but when I have avocado, salsa or sour cream in the fridge, I like to add those over the top too.
How will you use this recipe? Please let me know in the comments or on Instagram. I'm always looking for new ideas!
Pinto Bean and Cheese Burritos
This vegetarian make-ahead burrito is just like the ones you get in the freezer aisle but better! It's packed with pinto beans, pepper jack cheese and spinach for a little extra nutrition!
Servings: 4 burritos
Calories: 309kcal
Ingredients
1

tbsp

avocado or olive oil plus more for oiling the skillet

¼

cup

diced red onion

1

tsp

garlic powder

½

tsp

smoked paprika chili powder

½

tsp

chili powder 

1½

cups

cooked pinto beans

(1-15 oz. can pinto beans, rinsed and drained)

2

cups

cooked brown rice 

1

10 oz. can

diced tomatoes with green chiles, drained (liquid reserved) 

2

cups

fresh spinach 

4

ounces

diced Cabot Pepper Jack Cheese

Optional: fresh cilantro, salsa, jalapeños, avocado, sour cream
Instructions
Heat 1 tablespoon oil in a skillet over medium heat. Sauté the onion and smoked paprika, chili powder and garlic powder about 3 minutes.

Add the pinto beans, rice, and drained tomatoes to the skillet. Stir until combined and heat through, about 3-5 minutes. Allow any excess liquid to absorb.

Heat the tortillas in a dry skillet or in the microwave for a few seconds just until pliable.

Layer the ingredients: Place one tortilla on a cutting board. Layer ¼ spinach, rice mixture and cheese in a narrow line in the center of the wrap. Tuck in the sides. Then roll from the bottom, tightly tucking the ingredients in as you go up. 

Heat and lightly spritz oil a skillet over medium heat. Place the burrito in the skillet seam side down. Cook 2-3 minutes until it's sealed and tortilla turns golden brown. Flip. Brown the other side for about 2 minutes.

Repeat for the remaining tortillas. Slice the burrito in half and serve warm topped with your favorite garnishes like cilantro, jalapeños, avocado and salsa.
Notes
To freeze and eat: 
Let the burritos cool completely. Wrap individually with plastic wrap or foil. Freeze on a sheet pan or other flat surface. These burritos will keep at least 3 months in the freezer.
When ready to eat, reheat in the microwave or toaster oven. 
Microwave: Remove the foil or plastic wrap. Place on a microwave safe plate and cover with another plate or other microwave safe cover. Cook 1 minute on high. Flip and microwave another 45-60 seconds. Let sit 1 minute. Serve once cool enough to handle.
Toaster Oven with Convection or Air Fryer: Reheat the burrito wrapped in foil about 15-20 minutes until the center is hot.
Nutrition
Calories: 309kcal | Carbohydrates: 35g | Protein: 13g | Fat: 13g | Saturated Fat: 6g | Polyunsaturated Fat: 1g | Monounsaturated Fat: 5g | Cholesterol: 25mg | Sodium: 338mg | Potassium: 385mg | Fiber: 5g | Sugar: 1g | Vitamin A: 1625IU | Vitamin C: 5mg | Calcium: 269mg | Iron: 2mg